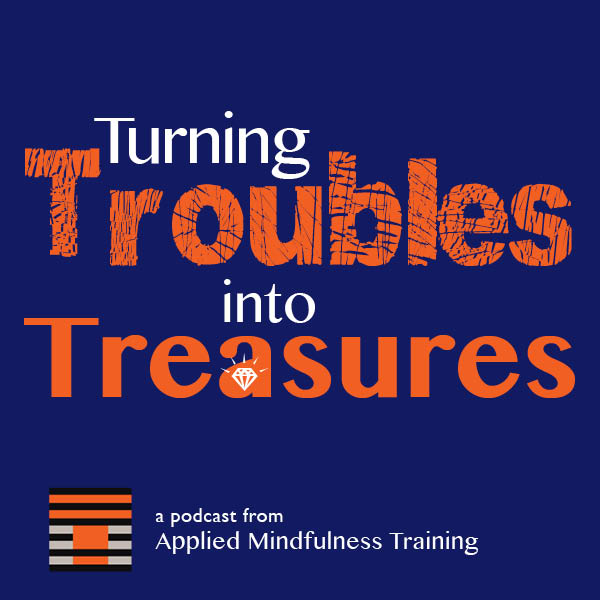 A podcast series from Applied Mindfulness Training exploring the challenges of modern life and offering meditation and mindfulness techniques to help make the most of our greatest resource—the human mind.
Listen to the Latest Episode:
Episode 7 — Rousing Sleeping Dogs
In this episode Carol S. Hyman invites us to question some conventional wisdom that allows us to avoid dealing with things that make us uncomfortable. If, as trauma theory suggests, Adverse Childhood Experiences often lead to us disconnecting from ourselves, mindfulness opens up the possibility of reconnecting. To explore how this can help us heal, Carol offers an exercise using memory and bodily sensation to unpack our traumatic baggage.
Listen and subscribe on your favorite podcast service:
---
Start from the Beginning:
Episode 1 – Having Fun with Fear
There are a lot of things we might feel fearful about these days. But one thing we don't have to be afraid of is feeling fear. In the inaugural episode of Applied Mindfulness Training's podcast series, Turning Troubles into Treasures, Carol S. Hyman discusses how we can learn to work with fear, use it to gain insight, and even have fun with it.
If this is your first time meditating, we suggest you start with our 10-minute guided introduction to basic mindfulness meditation.
---
Episode 2 – Dancing with Desire
In this episode of Turning Troubles into Treasures, Carol S. Hyman discusses the double-edged sword of desire. Passion has many pitfalls and, as Buddhists note, it is deeply linked with suffering. But it also has the potential to motivate us to do great things. Carol offers up some tools for developing a more playful and beneficial relationship with this constant companion.
---
Episode 3 – Deep Dive Detox
What do we mean when we say something like, "the mood of the whole room shifted"? We're talking about energy. In this episode Carol S. Hyman discusses how we human beings can dig into a deeper level of experience — Jung called it the Collective Unconscious — and work with our own minds to begin to filter out negative patterns of behavior and energy that trouble our species. To help with this, she offers some basic mindfulness practice instruction, which is the key to both gaining insight into our own tendencies and connecting with the wakeful presence that will allow us to detoxify them.
---
Episode 4 – Lightening the Load
This episode features an excerpt from the newly available audiobook version of Carol S. Hyman's book Meeting Your Mind. The section featured here deals with the baggage all human beings carry. Thought patterns and emotions so deeply ingrained we don't recognize them as distinct from ourselves. But if we take the time to unpack—to get to know our baggage—we can learn to recognize our burden for what it is, and maybe even lighten the load.
---
Episode 5 — From "I'm Right" to Insight
In this episode, Carol S. Hyman explores how we can kick our addiction to believing everything we think. This is an essential step in making friends with our minds, which ultimately influences how we treat others. If we practice this, we can evolve from having a fixed mind to an open one. This work begins by learning to recognize, and be skeptical, when we feel very certain that we are right.
Episode 6 – Changing Aggression into Accountability
In this episode Carol S. Hyman asks us to question our habitual response to those we don't agree with. Whenever we ask ourselves, "How could anyone possibly believe that?" instead of filling in the blank with a story about someone's stupidity or cruelty, we might try getting really, genuinely curious. To get some practice at doing this, Carol offers an exercise using memory and imagination to become agents of change.
All Episodes